The Test Kitchen!
In 2019, Brian and I decided it was time to restore the old homestead "Bunkhouse" house on the ranch. We'd been slowly restoring the main structure, this beautiful two-story original home built in 1868! We had painted the exterior and removed most of the layers and layers of wallpaper and shag carpet and ceiling tiles to uncover original wood milled right here on the ranch and lots of historical details.
With my first cookbook coming out in the Fall of 2020 (and working on cookbook #2!) we knew we needed a place to recipe test and entertain year round. The Camp outdoor kitchen has worked so well, but it's only functional about five months out of the year before we close it up for winter.
The idea was born for a Five Marys "Test Kitchen" to test and create new recipes, as well as host cooking or small business retreat weekends and to share our favorite ways to cook Five Marys meats with you all via photos, tutorials and short films from this kitchen!
When the original house as built on the ranch in 1868 – it was long before indoor plumbing or electricity. It's built on a rock foundation but solid as that rock! Every window still opens and the house is beautifully in original condition throughout. Originally the house had an outdoor "kitchen" area with a fireplace to cook and a natural spring for water.
The little kitchen, bath and laundry were add on to the back of the house, section by section, as plumbing was introduced to the house – likely in the 1940's. None of it was built on a foundation and had a lot of issues with the roof lines and leaks and squirrels were literally taking over the space.
We decided to tear the addition down and rebuild a proper kitchen, dishroom/pantry and a big bathroom "dorm style" with two shower rooms and a big claw foot tub in an extra laundry room for bottle babies and washing ranch bibs! But the kitchen will be the center-piece to cook and share new Five Marys recipes and all of our favorites from my Ranch Raised Cookbook!
We still plan to live in our little house right next door – we love our cozy home! But this will preserve the "bunkhouse" and make it easier to use for visiting friends and family and to COOK all year long and share even more of our favorite Five Marys recipes with you. It's kind of like a studio where the girls do their schooling, I cook and create recipes and we'll host guests and retreat participants in the future!
We've been working with our good friends and Riggs Distributing and Design to design a first-cabin kitchen with the latest Sub-Zero & Wolf appliances, a home Dry Ager unit to help educate our customers even ore about the dry aging process using our beef, the kitchen and the bath fixtures form my favorite source Vintage Tub and a super cool heat source from US Stove!
We salvaged everything we could and it didn't take long to remove the addition from the main house and knock that baby down! The new build started in Mid April 2020. We slowly but surely made progress on the build in the late spring and summer of 2020.
The Bunkhouse in it's original state as shown was built with no indoor plumbing at all. It has eight bedrooms all still with the original raw-wood planks milled right here on the ranch; and a big parlor and living room around a wood stove.
We got all the plumbing and electrical and gas in place and then poured the slab for the main kitchen/bath area. Adding on a concrete slab for the front porch next.
The walls went up and Brian and I moved into the fun stages of picking out materials and finishes and tile and designing that beautiful back wall that will be the centerpiece of this kitchen!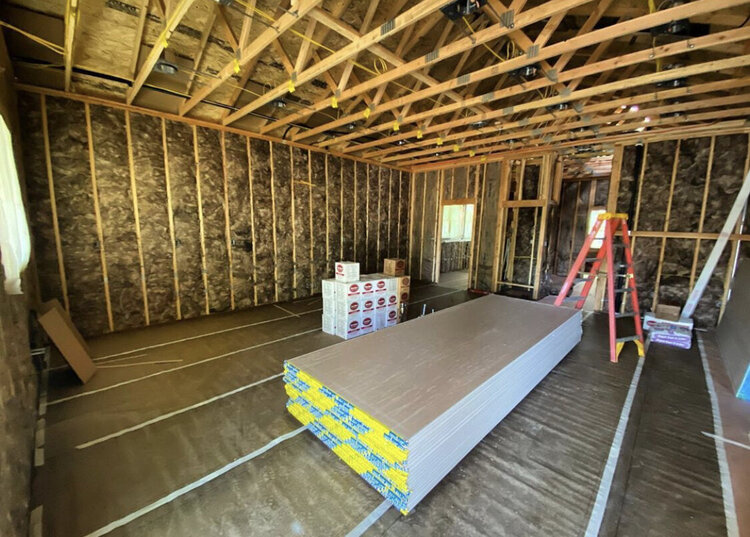 Dry wall started in the beginning of June – I loved the smell of the fresh cut lumber but was so excited to see it transform into rooms and a real space quickly with the dry wall going up. We added insulation shortly after and the spaces started to take shape.
Brian and I have spent quite a few nights walking the spaces imagining up the the finishes and the final layouts. He has a great eye for design and it's so much fun to work through project designs with him. We usually make these decisions on the fly at the last possible minute, but we're always so happy with the unique and very "us" way it turns out.
A friend asked me if I had a mood board I could share for the kitchen design and my only answer was "It's all in my head – but I can guarantee it won't look like any other kitchen" – she responded "I don't doubt that!"
We finished dry-wall the second to last week in June of 2020.
Brian made the steel brackets for the kitchen wall and laundry room to mount the old beams we found to install as long floating shelves. We sourced some reclaimed lumber from an old Sears-Robuck store in Oregon – they were just beat up enough to have lots of character, but I wanted a dark stain to match the kitchen.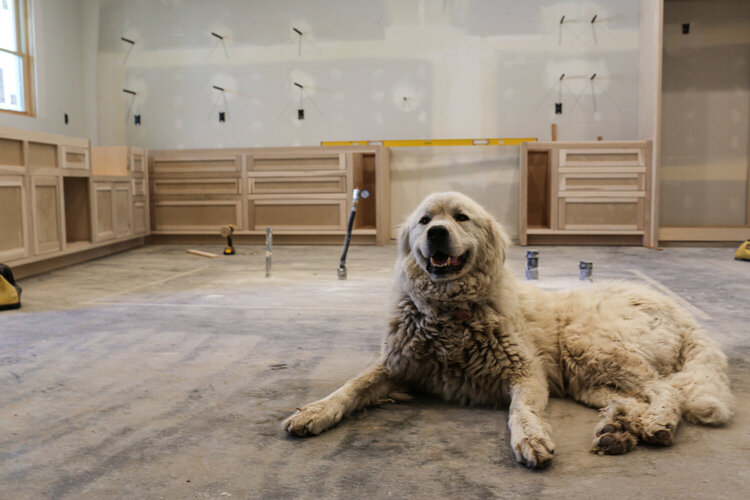 I tried my favorite dark Ebony and Jacobean color stains, but they weren't feeling rustic or dark enough. I found an age-old technique called "Shou Sugi Ban" that chars the wood (usually cedar, my beams were pine) for a deep black with lots of character and texture.
I got out the propane blow-torch and got to work on a sample piece of the beam. It took some time to learn the technique but in the end I LOVED the look! We finished the beams with linseed oil and they look so good.
During the whole process, I was on weekly calls with the team at Riggs Distributing and Design to plan for the Sub Zero and Wolf appliances (I am so excited for all of them!)
I was also working with our local custom cabinet maker, our tile and countertop installer, painters and electrician to make sure everything is going to come together to take this kitchen across the finish line. The Vintage Tub fixtures and Dry Ager were almost ready to go in, with all my favorite Staub cast iron to cook in too!
Brian and I are better at design decision when we see it come together (doesn't always work with lead times…. but we pull it together) so we were still deciding on a lot of the finish details as we went along. But it was so much fun to see it coming together – I can't wait to get cooking!
---
behind-the-scenes test kitchen tour!
---
the appliances :
One of the first things we did when we started thinking about building the Test Kitchen was reach out to Riggs Distributing for top-of-the-line SubZero and Wolf appliances for the kitchen. I have known the Riggs family since childhood and they are a multi-generational company with a skilled design team for crafting the perfect cooking space. Riggs has been a fantastic partner of ours for many years so we knew wanted them to help us design our new kitchen.
My family have been big fans of Wolf ranges for over 30 years… my parents remodeled our kitchen In 1984 and put in a Wolf commercial range in a residential kitchen – we had to build a brick surround behind and under it since it was rated for a commercial kitchen, but that is where I learned to love cooking. big meals and entertaining. My parents were (and are!) the best entertainers!
Here are the appliances we ended up choosing for the Test Kitchen and the links to each one. If you are looking to build-out a new kitchen or remodel on the West Coast or Hawaii… Riggs Distribution is a HUGE help in choosing the right appliances and planning your kitchen! They have a showroom in Burlingame, CA with all of the latest and greatest appliances from Sub-Zero, Wolf and Cove. I highly recommend you give them a call to see if they can help you in your new build or remodel!
The Range!
We chose the gorgeous 60' gas ranch with 6 burners and infrared dual griddle. The dual griddle is so great for everything from pancakes to steaks and I can't believe how easy it is to quickly control the temperature on the burners. The low simmer function is incredible for low and slow, even cooking without burning anything. I could not be more in love with this range! I chose the iconic red knobs, but they also come in black or stainless.
Control temperature precisely with six dual-stacked, sealed gas burners for higher highs, lower lows
Rely on a double 30,000 Btu infrared double griddle to sear burgers, stir-fry vegetables, and more
Enjoy quicker heat and more even cooking with this large capacity gas convection oven
Multi-task with an additional 30″ oven
Clean up sloshes and spills easily with the seamless, sealed, black porcelain-coated burner pans
Produce crisper crusts and faster sears with the powerful infrared interior broiler
Re-ignites flame automatically with our spark ignition system for improved temperature control and added safety
Move pots and pans easily across continuous cast-iron grates
Find your kitchen style with a choice of iconic red, black, or brushed stainless control knobs
We went with the Wolf 60 inch Pro Hood in a 27 inch depth. It really packs a punch in pulling air but it's still super quiet when we are cooking. I love the bright halogen lights and the heat lamps are a pretty awesome feature too!
Breathe cleaner air and enjoy less greasy residue in your kitchen
Make a statement with a stainless professional look or opt for lower-profile "hidden" ventilation
Matches the same heavy-duty stainless-steel construction, hand-finished hemmed edges, and welded seams of all Sub-Zero, Wolf, and Cove products
Illuminates your cooking area with halogen lighting with two brightness settings
Minimizes the backward flow of cold air with backdraft transition
Heat lamps available for 27″ deep models
---
The Counter-Top Appliances
This 15-inch multi-function cooktop module Is built right into the island so I can cook front and center in the kitchen while I am entertaining guests, teaching a cooking class or sharing a recipe tutorial online with you! I love
Perfect your stir fry with a sculpted flame courtesy of a high-output 22,000 BTU burner
Transform the cooktop with the innovative "two in one" grate for standard or wok cooking
---
Makes fried food crispier and lighter without unnecessary grease
Ensures shortening and lard don't burn with the melt feature
Keeps your kitchen looking spotless with a low-profile, stainless-steel lid
Remove foods easily with three dishwasher-safe wire baskets
Holds and drains oil more conveniently with a manual locking drain
the 15 inch Electric Grill Unit
Use independent heating modules to grill multiple items at once
Adds flavor and heat with ceramic briquettes
Pair the slim 15″ modules with other modules and full-size transitional framed cooktops
The 15 inch Transitional Steamer Module
Steam meats, grains, and more with the powerful 2700-watt heating element
Increases precision cooking as well as the ability to adjust in 1-degree increments with 10 preset power levels for sous vide cooking
Melt fine chocolate, proof bread, and more
Slow cooks for eight to ten hours
Holds steam for more consistent temperatures with the advanced lid seal
Stack stainless steel pans with ease
Release full water capacity in just two minutes with an electronic drain
---
SubZero 36" Glass Door Refrigerator
Fight spoilage and odors with a NASA-inspired air purification system
Locks in cold air to ensure freshness with magnetic door seals
Keeps produce fresher with high-humidity, sealed crisper and deli drawers
Includes easy to refer to freshness cards for tips on food preservation, use, and care
The Wolf 30 inch M-Series Professional Single Oven and
Preheats faster and cooks more consistently across all racks due to its advanced Dual VertiCross™ convection system
Assures predictably delicious results with a variety of modes, including Convection Roast, Proof, and Dehydrate
Prepares 50 popular dishes with the Gourmet feature that automatically adjusts cook times and temperatures
Handles multiple dishes simultaneously with our largest capacity oven (13 percent larger)
Insert a temperature probe to tell you exactly when it is done—and in gourmet mode, it will alert you the moment the dish is ready
The Wolf 30 inch M-Series Professional Convection Steam Oven
Detects the volume, shape, and consistency of your food with a climate sensor that adjusts time (you can even delay the start for when you want your dish ready), temperature, and humidity for guesswork-free delicious results, every time
Features space enough to cook multiple dishes at once (or a 15-lb turkey)
Insert a temperature probe to tell you exactly when it is done—and in gourmet mode, it will alert you the moment the dish is ready
Provides an extraordinary 90 minutes of steam cooking with an easy-access water tank
---
These freezer drawers are so great to have under our counters for easy access to all of our meats. They can be outfitted with custom paneling to match the rest of the kitchen cabinets and will blend right into our beautiful cabinetry.
---
24" Vacuum Seal Drawer
Select our chamber-style vacuum to handle liquids and fragile items (Can seal without vacuum, unlike countertop products)
Choose among four vacuum pressure settings and four heat-sealing levels
Includes a special attachment to seal and preserve opened wine bottles
Install near your Wolf ovens and other products for speed marinating and convenient sous vide prep
Distributes heat evenly from 80 to 200 degrees Fahrenheit using fans
Includes food presets, such as bread, cooked cereals, and pizza
Fits entrées and sides easily in its generous 30 inch drawer cavity
We also love our Wolf 4-slot toaster and coffee maker! They look so great on the counter in the pantry with those red knobs.
Riggs has done such a great job helping us to find the exact appliances that will fit each nook and cranny of the kitchen. We are looking forward to using each piece to create amazing recipes – and showing you what you can do with them – stay tuned for all the new cooking posts!
---
the finishes
The counter tops are a honed granite with a matte finish that has been aged and sealed. We found slabs that were just below to "absolute black" color so they have some grey veins and lots of depth to them. The hardware we found are pewter drawer and cabinet pulls from Rejuvenation which matches our beloved Arte Italica pewter.
The Pewter Mission Bin pulls are 3 inch for the smaller pull outs and then I used the drawers all all Pewter Mission Drawer Pulls.
My KitchenAid mixer is a 5 QT in Empire Red with the glass bowl and all the good attachments!
---
tile
And I am so excited about this tile from Clé which will have zero-lines to no grout! We used the Zio & Sons Zellige tile and the weathered white subway tiles. They are a thick, natural clay tile and so unique looking. I love the rustic style – no two tiles are the same!
For the island, I wanted something really different and memorable – so I went with this gorgeous Cle ZIo & Sons zellige terra cotta tile in black and white. Everyone tried to talk me out of tile on the countertops (sine this isn't 1990 🙂 but I stuck to my guns and I LOVE IT SO MUCH. It actually wipes clean really easily and is a fun and different look, I think it feels very Five Marys!
The cabinets were custom made by a local cabinetry maker Scott River Cabinets. They did the perfect job outfitting the kitchen with exactly what we needed building each piece by hand to complete the space. They have an amazing black lacquer finish and with the pewter handles will be gorgeous against them. The girls, Brian and I are making the floating shelves to go on the wall. Brian welded the brackets and we screwed them into the studs before we drywalled. I am working on a burning technique for the wood and then they will fit right into the brackets to create an open shelving concept.
---
vintage tub & bath
The sinks and faucets are from Vintage Tub they have been a favorite company of mine! Our sink up at camp is from Vintage Tub and we sourced everything for the kitchen from there. They are very reasonable priced and have great customer service. I love the Randolph-Morris collections and chose most of them for the sinks and faucets in the Test Kitchen and Bath.
---
dry ager
One of the the things I am also excited for is our home Dry-Ager. Our extended dry age on all of beef of 21-28 days is what helps craft our signature premium beef cuts. Now we will be able to show you the process of dry aging and the importance of it as we start dry-aging in it!
Dry Ager is a company that allows anyone to install a dry ager in their home in a way that makes storing and aging beef feasible and safe.
We have some certain cuts like our signature prime rib (We have this available at Christmas) ready to start aging the moment that we get this installed. This will also allow us to show you more of the anatomy of a steer. If you ever want to know where your cut comes from or what to do with a specific cut you can always look at our cut list HERE.
---
favorite kitchen things!
---
I absolutely love cooking with Staub products. They are not only beautiful, but they also really intensify the taste and flavors of your food. I typically reach for the 'cocette cast iron' for most of my dishes, but everything they make it so great!
I found this beautiful runner at Rejuvenation in 2.5 x 16 and ordered it for the kitchen between the range and the island – I love the pops of red and bold colors in it. It's super durable and should hold up well with lots of traffic in the kitchen!
It's called the Balter Flatweave Rug and you can find it HERE.
It also comes in an 8×10 size which I love just as much! Find that size HERE.
---